Technological advantage:
1. Portable design, easy to operate, charging for lithium, work time extension lasting, to examine a variety of
industrial piping or the narrow and complicated inner space of a device corrosion, crack, weld, foreign body,
wear and the internal parts processing etc. can be fine by comprehensive detection;
2 ergonomic design concept, beautiful appearance, perfect the use of feelings;
3 braided tube outer cover smooth polyurethane (four layer structure), alloy steel lens shell, rotating joint outer cover
wear black steel woven sets of products in the harsh working environment, durable;
4 optical system lens, depth of field, wide angle large, dark ring mirror illumination increased several times than the normal lens;
5 the mechanical control of the four direction of rotation, single side bending is greater than 150 degrees, the control of flexible labor saving,
improve working efficiency, the relative power steering failure rate is low;
6 intelligent camera, video integrated function, easy to record the test data;
7 super bright 4LED lighting, lighting system design optimization;
8.4.5 inch LCD display, providing smooth, real, clear, stable and stable detection screen; image can be mirror, zoom, contrast and other functions.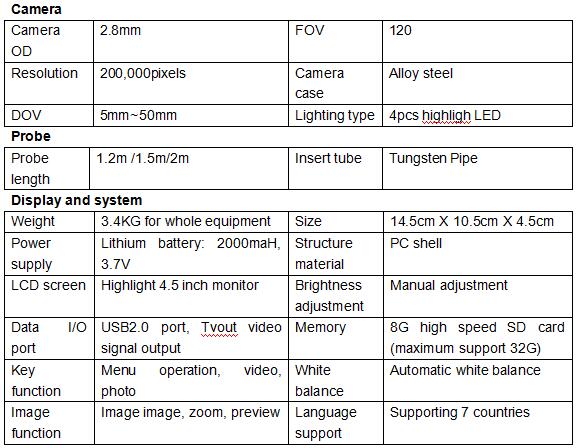 1, aerospace industry: used in aircraft structure, engine, blade inspection products
2, automobile production, maintenance: for automobile parts, engine inspection products
3, power production, construction units: for wind power plant, hydroelectric power plant, thermal power plant and electric power construction units to detect the product endoscope detection
4, precision casting and mechanical manufacturing: for the production of machinery parts, casting unit inspection products
5, petroleum, chemical, pressure vessel industry: used in the petroleum, chemical, and pressure vessel industry's inspection products
6, railway, ship, construction engineering, research units: for the locomotive, turbine, engineering, pharmaceutical, food pipeline inspection products
7, defense and military security, security: for weapons and equipment, public safety inspection